June Tutto, one of the daughters of Jubilee Party Vice President David Murathe, leads a decorated lifestyle defined by fashion, travel and even fame.
Tutto, a recent graduate of the University of California, Los Angeles (UCLA), has never been shy about documenting her adventures and accomplishments, despite being the daughter of one of the powerful kingmakers in the president's government. Uhuru Kenyatta.
She owns a lucrative clothing line known as Tutorial by June. The brand produces the most sought-after models of clothing for men and women, attracting customers from all over the world, its base being Stockholm design.
File photo of June Tutto reading a book
June Tutto IG Page
In Stockholm, June partnered with Kenko design and FC Design based in Reykjavik, Iceland.
Born and raised in Kenya, June noted that her motivation to start a fashion label was driven by watching her mother dress up as a young girl.
As she got older, she used fashion as a form of expression at different stages of her life. So far, she has merged her passion to create her own brand image – Street Glam.
June's fashion achievements include presenting on iconic stages around the world such as Dutch Fashion Week, Fashion Shows in Venice Beach California and Melrose in Los Angeles.
Her achievements and growing popularity have further been catapulted by her unique marketing design where she releases limited editions of her clothing brands only once a year in the month of June.
"Focusing on ethical and sustainable approaches to fashion production, the brand only launches a new collection once a year in June, available year-round for pre-order, including a collection of limited-edition accessories. limited to fall and spring," Tutto describes his work on his website.
Besides investing in fashion, her life is characterized by lots of fun activities such as traveling for adventure. She has visited different parts of the world, including Italy, the Netherlands, and Portugal, among other countries.
In 2020, she made headlines after throwing a lavish birthday party at her family ranch in Kiambu.
The white-themed event was a spectacular occasion with a live band, flashy sports cars, stylish fashion, a gourmet buffet and exotic champagne to top it all off.
The event was honored by friends, family and personalities such as James Muigai, Miano Muchiri, Millu Elba, Linda Ndiritu among others.
Murathe's other daughter is known as Waturi Wakairu Wamboye. She married the love of her life, Ernest Wakhusama, in a colorful and private wedding held at the Brackenhurst Hotel in Limuru in 2012.
The event brought together some of Murathe's friends such as George Muhoho, then Embakasi MP Ferdinand Waititu as well as former Limuru MP George Nyanja, James Nyoro among others.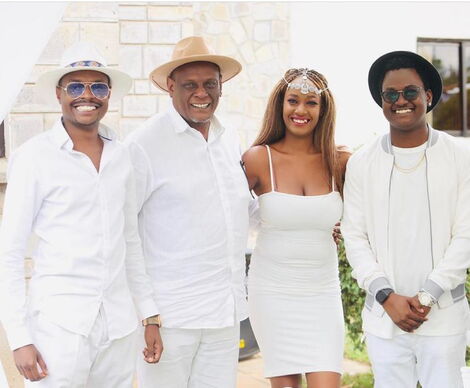 David Murathe and his children including his daughter June Tutto
June Tutto IG Page